Skate Malmö: Street 2017 recap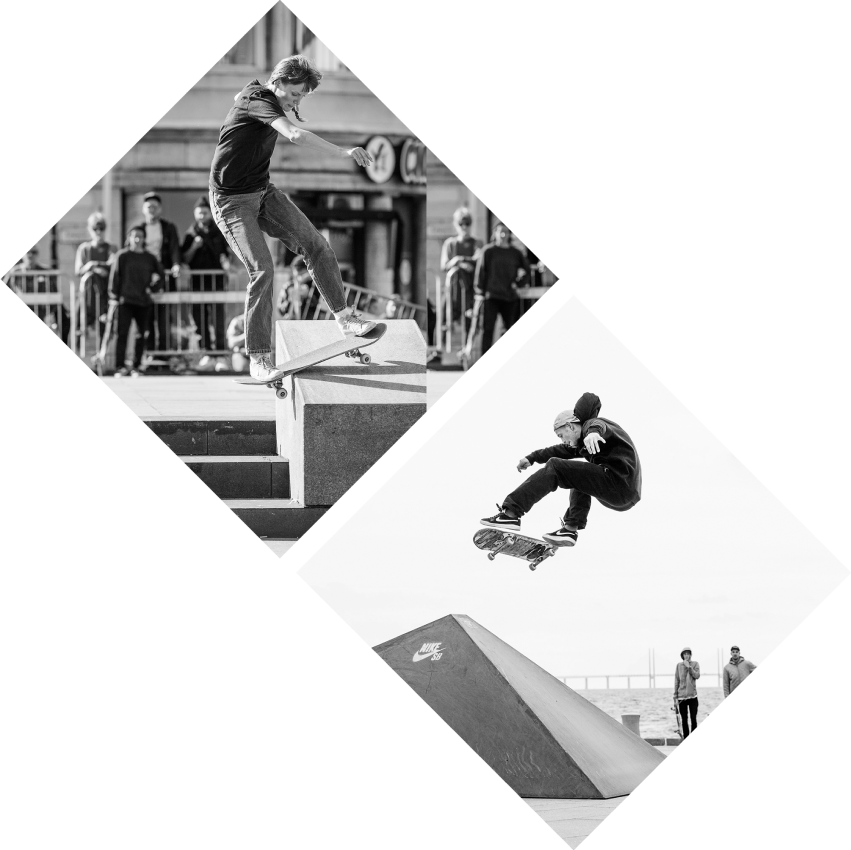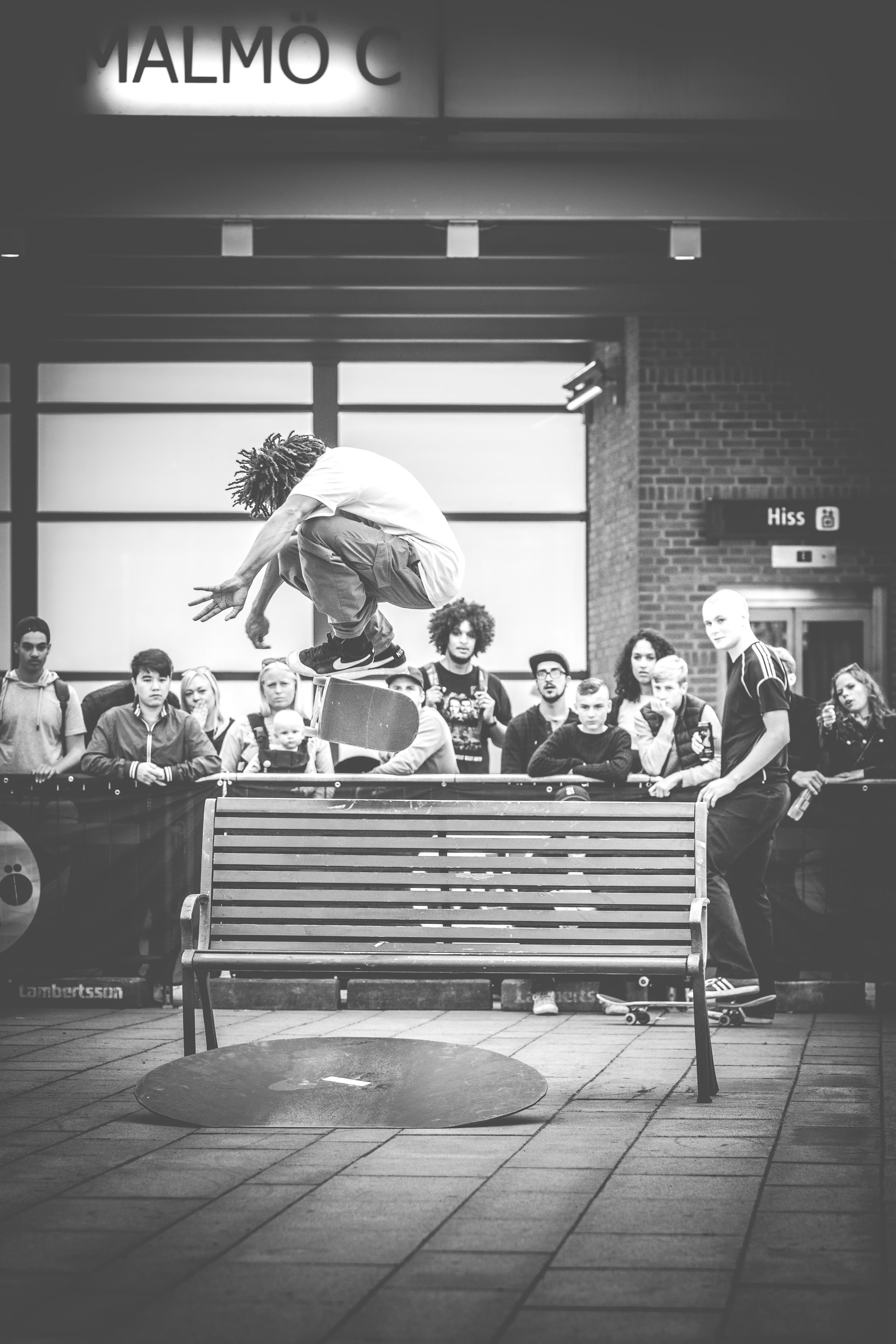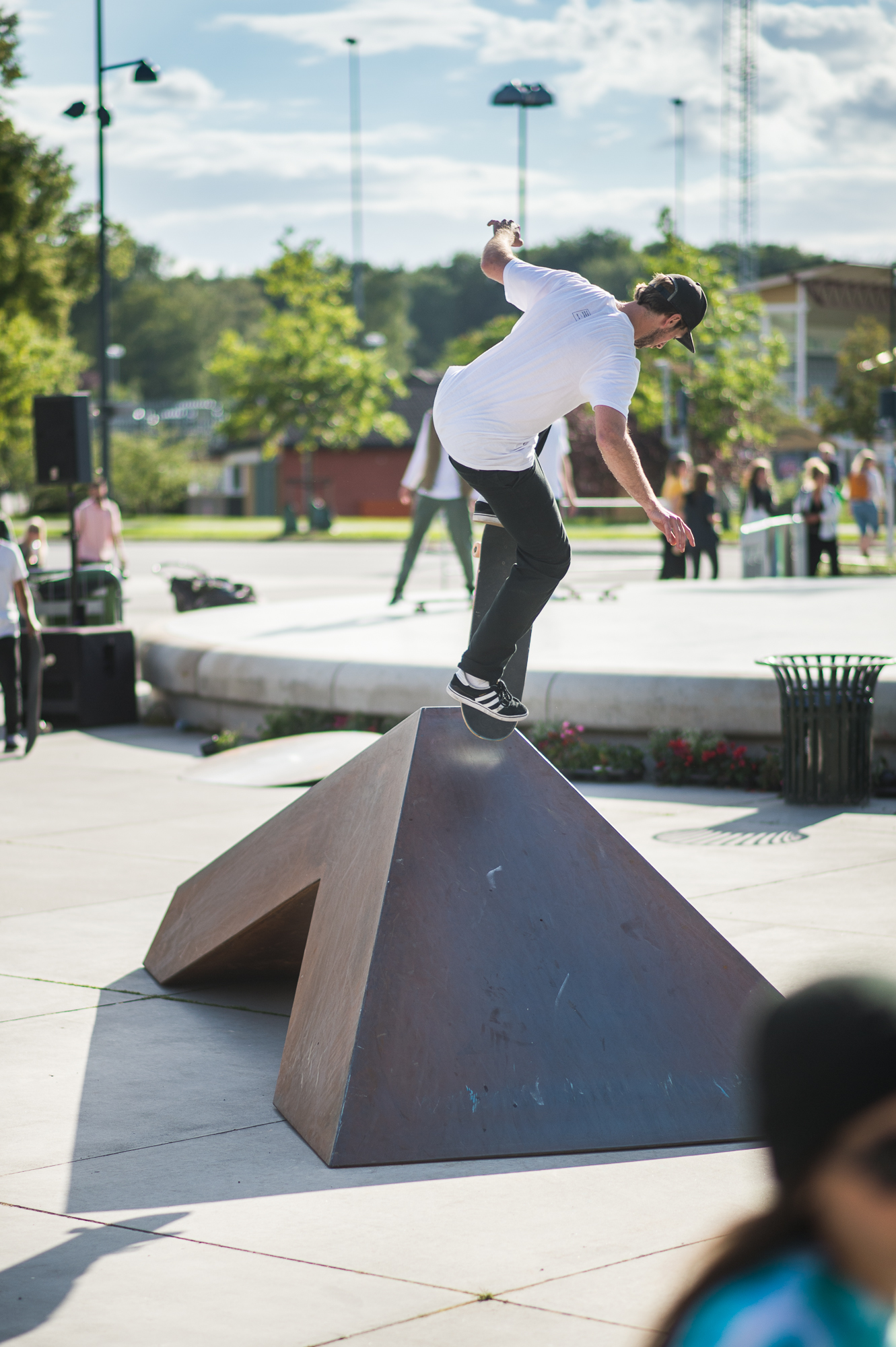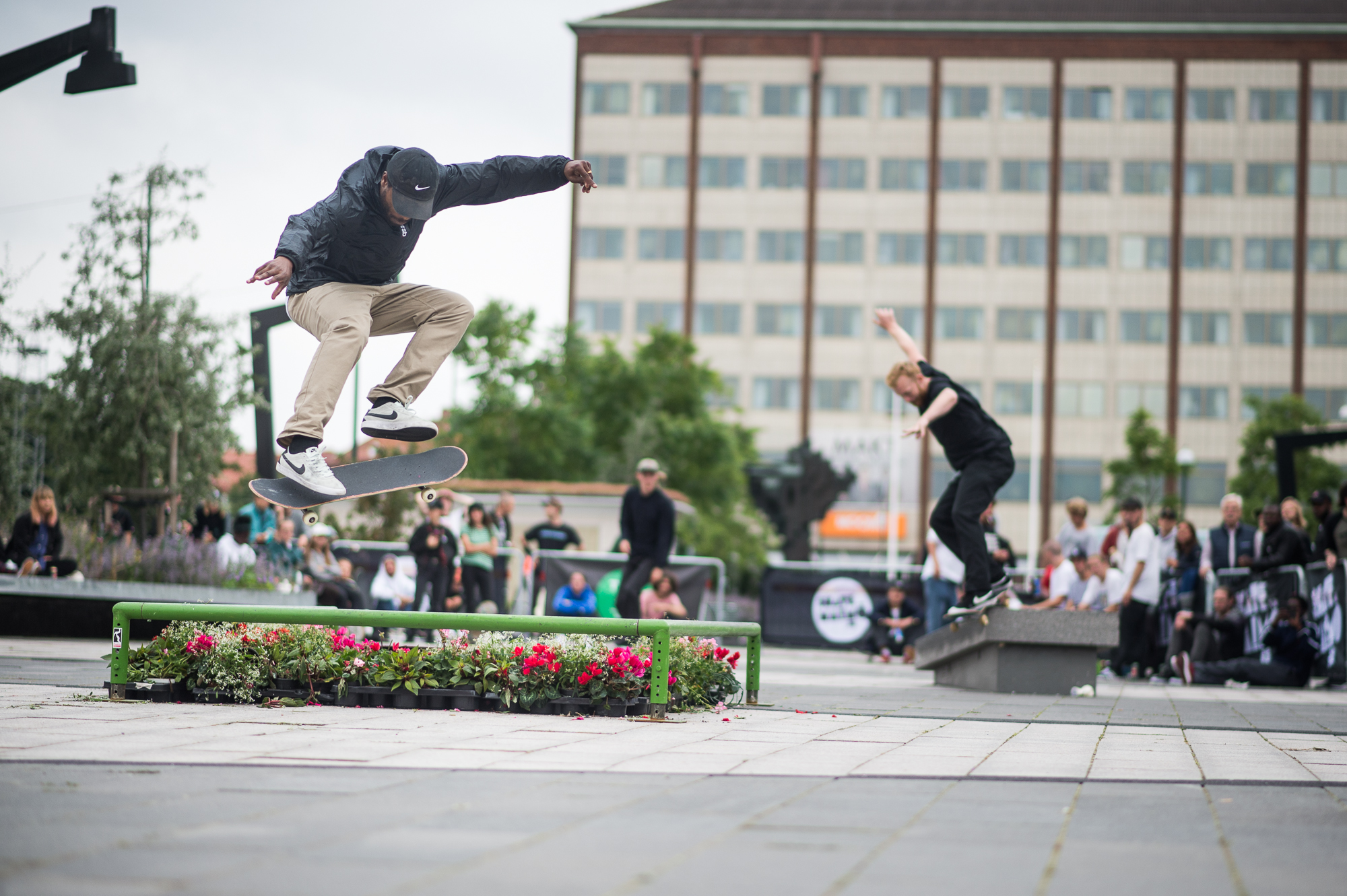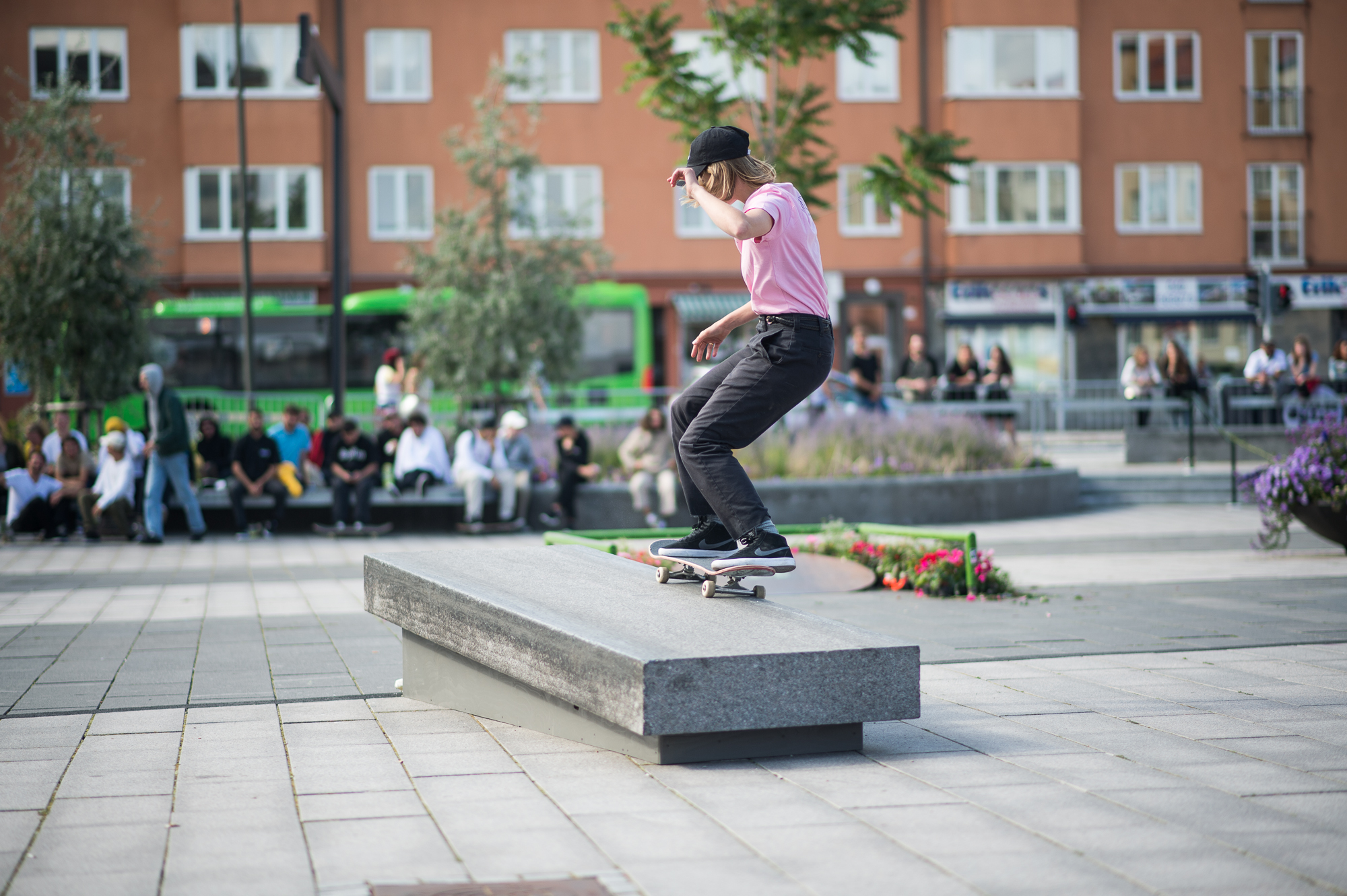 Top photo by Rhulane Shiburi and the rest by Alexander Olivera
We're starting to get somewhere with this.
Skate Malmö: Street is the event that starts with street skating and takes shape from there. This means 'real' street spots and shifting the focus from competition to the session. 2017 this meant heat jams and awards for what stood out. No 2nd places, but a whole lot of 1sts.
And word is getting around. New for 2017 was a collaboration with Göteborg's latest skateboard organization Gatuplan, who launched GBG Street the weekend before. Same concept: Add street furniture designed for skating to an existing space and create a spot, host a competition and breathe some life into the city. Göteborg is in there! Who will be part of the series 2018?
But there it was. After months of juggling riders, hotels, setups, permits, parties and all the rest of it, it was Friday and time to descend on Bagers Plats right on the fringe of the Malmö Festival. Sculptures, ledges, kickers, rail. And flowers, naturally. But most importantly: Teams!
Yep. This year was a team effort. Stoked to se Stockholm in there with Shy and the ex-kids-now-not-anymore-damn-time-flies boys! Kaleidoscope got themselves down here, as always committing to last-to-leave-the-party-first-to-arrive-at-the-spot. Hordes of rad girl skaters with Beatrice Dumond and Una Farrar hanging out the whole week and schooling the locals on skate-nerd knowledge. Team Helix and Gammeldansk claiming the space and showing some proper gang styles. Team Swoosh and Adidas making the journey, rolling with heavy-hitters and big smiles.
Tricks? Loads. Freshish ledges took some push to grind, but wizards make wizardry work. And the ledges got worn in that much more for next year. Simon Hallbergs mind seemed designed to take on the sculptures, and everything else for that matter. Korahn had that extra switch inhale 'sssst' pop, Helena Long took on every obstacle, as did Emma Lindgren, Plankton spun over that bench so many times, Koffe got in the zone and all of team Stockholm switched to attack-mode and destroyed everything without letting up.
People won things. Info below. Spread the love.
Saturday was the challenging day for this year. In part due to the weather and in part due to the challenging flatground of the space. With essentially every existing metrological institution consulted online, the verdict was essentially 'It may rain'. And rain it did.
But not enough to cancel.
And for Kaleidoscope not enough to stop skating. Arriving first and opening the day, Grönwall and Foppa broke the new cheese-block (LLSB) in with flip-to-slide wizardry. Instagram has proof. Perhaps the rain-gods wanted to see more of that level of action, because shortly after, rain stopped and held off until about five minutes after the end of the event.
The format was 'team lines' with each team member doing one trick and the four tricks making up a line. Some teams really took to the challenge and spread themselves out all over the square. Notably team Gammeldansk who refused to finish the same line until everyone had landed their trick. Nike squeezed Burgerkongen in for a five-man lineup and came through as well. Many other standouts worth mentioning, but one of those definitely Axel Lindqvist who found flow in the STHLM heat, ollieing the planter, frontside crooking longer than one would to fakie into the steeper end of the bank and more.
For the tricks-for-cash, general mayhem broke out into, up, on and over the bank as well as the long-curved ledge. So many tricks went down. Amandus looking to go under the handrail, Filip Almqvist grinding looong, Foppa with his first everish hardflip backtail, Joel Swärds switch shove-crook… Again. Lots and lots.
Stealing the show and skating a whole other part of the square, however, was Una Farrar, not letting go of a backside heel over the garden gap. Try after try of committed landings: Primo, darkside, getting stuck in cracks on the ground and just rolling out. In the end the whole crowd was involved and just as prizes were starting to get handed out there it was. Solid with style. Nice one Una!
After handing prizes out, it was time to head to Folkets Bar for a screening hosted by Poetic Skateboards. Good edits, good vibes and rad clips. Cheers, Poetic!
Even if it's only been around for a few years, it would be hard to imagine Skate Malmö Street without touching base at Svampen, aka the mushroom. For the event, Malmö's favourite hook-up spot saw some new furniture with skateable sculptures, kickers, rail and some shuffling of existing benches.
For the Svampen Session, focus was shifted to filming and 'the creative interaction with the urban fabric' if you will. In other words, skate the sculptures and film edits by a certain time. Post them on instagram.  #skatemalmostreet. Check it.
Skaters got to skate in their own time, DJ's Bella and Besh got the good vibes flowing and the crowds got to see street skating close to its true form. In between filming the session got brewing with some tricks-for cash at different parts of the square. Everyone got in there with the Stehag Skaters showing that you don't need to be much taller than 3ft to get involved. So much good skating, such good vibes.
And there it is: A weekend of skating around Malmö and getting good people together. Thanks to all who came down, to Ali Boulala and Katta Sterner for judging,  Streetlab and Nike for support and people who came out to watch. Let's get cooking for 2018!
skate malmö: street / team edits
Filming was a big part of the team effort for this year's Skate Malmö: Street. The teams had the option of putting together an extended edit over the week and the results have come in. First out is team Adams Family, with Lucy Adams at the helm whenever she could take a break from Mcing. Josie Millard, Helena Long and Amy Ramall smashed it, with Helena picking up a few awards en route. Second team is Shy and the third team is Gammeldansk, rolling with flags all weekend and taking home awards for best line score.

Friday at Anna Lind's Plats: 
Best overall:
Danish Dynamite – Alexander Risvald
Most creative run – Simon Hallberg – backside 180 to blunt sculpture, hippiejump bench and everything else.
Best switch – Korahn Gayle
Best run girl – Emma Lindgren
Best run overall – Simon Karlsson
Kicker over Bench trick awards:
Nisse Ingmarsson varial heelflip
Daniel Grönvall- Frontside kickflip
Philip Almqvist – switch flip
Koffe – popshoveit
Plankton – switch backside 180
Jonathan Carelle – Benihana
Girls:
Best outfit etc.- Una Farrar – Canadian rocking the full Swedish colors. Also 5050 cannonball, popshuve it over the flowers.
Best grind – Sara – nosegrind curb
Best slide – Helena Long – board slide 270 out
Team awards
Best male team – STHLM
Best female team – Helix
Saturday at Nobeltorget: 
Best male team: Stockholm
Best female team : Helix
Best line score: NIKE
Best line score girl:  Gammeldansk
MVP: Alexander Risvad
MVP girl: Tonje Pedersen
Best trick overall: Axel Lindqvist, Front K grind to fakie into bank
Best trick girl: Helena Long, Caveman boardslide
Best heelflip: Koffe
Ripper award nr:2: Micke Marklund
Ripper award nr:1 : Kalle Svantesson
Best flip out: Simon Karlsson. Back tail 180 flip out on high ledge
Best filmer; Sean Christensen
Best bruten tå: Plankton:
Always rippin award: Filip Almqvist
Best trick in the rain: Daniel Grönwall, (Also flip back tail on high ledge in run)
MVP Men: Alexander Risvad
Sunday at the mushroom awards: 
Instagram jam # 1
Best edit: Kaleidoscope
Best female creative line : Kgrind 360 shuveit + front rock – Helena Long
Best creative soundtrack: Stehag skaters. Kommentator till tricken
Best female edit: Gammeldansk
Instagram jam # 2
Best edit – Adidas
Best slappy team- Poetic
Best team coordination – Adams family
Most creative trick – Amandus Mortensen (blunt to feeble grind rail) (NIKE edit)
Most creepy Gubbe in edit –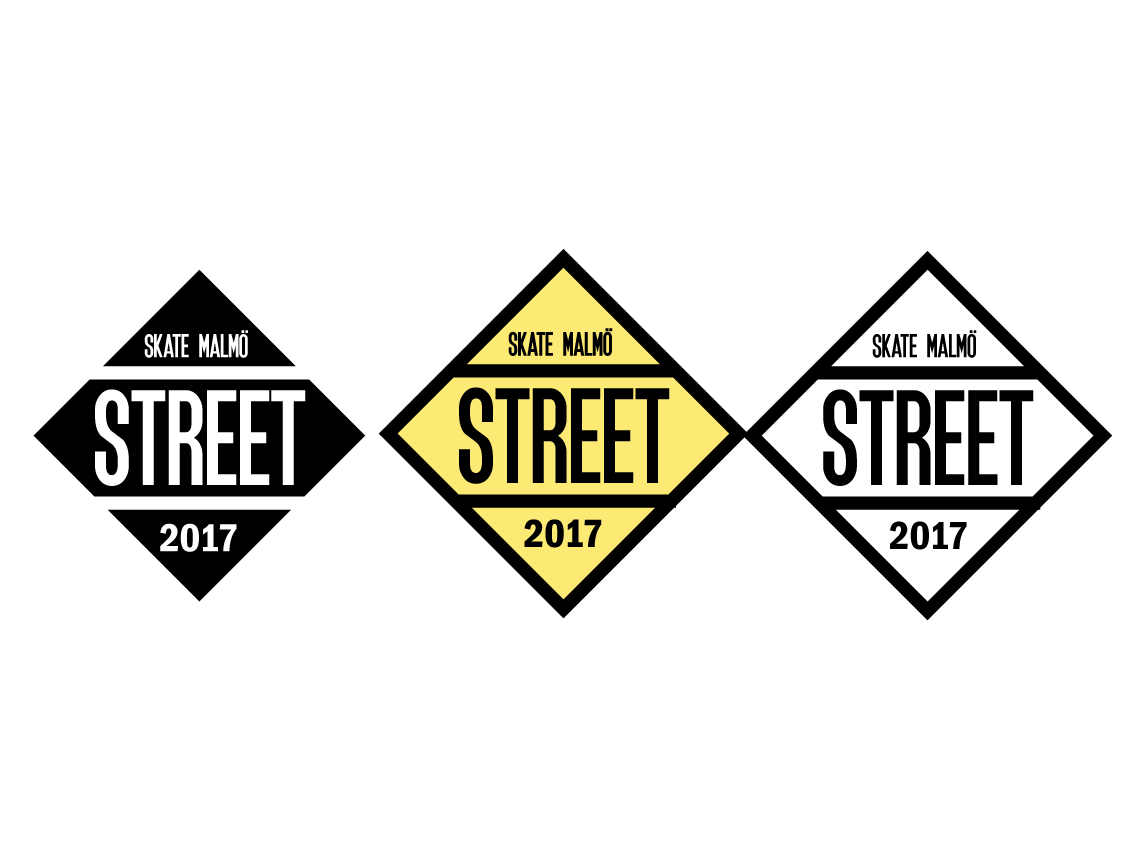 Skate Malmö Street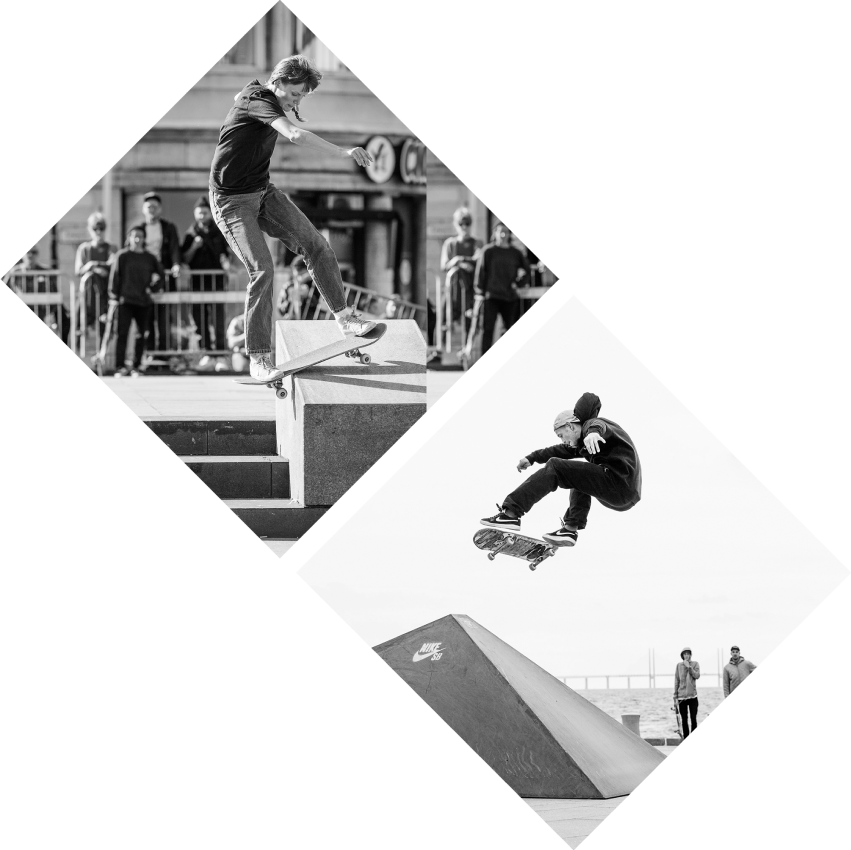 Skate Malmö: Street is back, inviting skaters from all over the world to come open up new spots in Malmö. New street spots, skateable sculptures, group sessions, filming, art, parties. All while the Malmö Festival is keeping the city lit.
This year it's a team effort. All the events are session-based and entry is in groups of four. Get three mates together and get amongst it! Registration when you rock up or here:
The events will take place over three days at three different spots. Friday August 11 we kick things off at Anna Lindh's Plats close to Malmö Central. The format is team sessions.  As you never know what the best thing at a session is going to be, we are keeping the awards open. Tricks, slams, charge, outfits, style, character – We will know it when we see it!  Bring it and get it.
The Malmö Festival will be in full swing, and august is crayfish-season. Not to abstain from Swedish tradition, Streetlab are leading the way to  Stortorget for the annual Malmö Festival Crayfish party. Crayfish, silly hats, and skate-songs. More info on Streetlab.nu
Saturday we head to the new skate-adjusted square Nobeltorget for the '4 Hits' team competition. This year we are introducing a new competition-format:  Each team of four skaters has four tries to do 'group-lines' with four tricks. After the four tries, the team gets a few minutes for a normal jam. Overall impression. Best teams take it. Jr, Women Sr.
To close the session the curved beam/bank section will see a best trick jam.
After the event, we head via the Folkets Park miniramps to Folkets Bar for a video screening of Poetic's latest offering. More info to be announced. Then Streetlab are hosting ping-pong and drinks at Far i Hatten.Enjoy!
Sunday means the 'Svampen Sessions' at Malmö's #1 meet-up street spot 'The Mushroom' by Malmö Konsthall. Skateable sculpture-park installed for the day, tricks for cash and the Instagram edit contest. Get an edit together within the set time-frame and reap the rewards. Food, good jams, good times. Tricks for cash thrown in.
Video Edit Contest: 
Add a filmer to the team and get a video-edit together from the week. Submit to info@skatemalmo.com and join the Video Edit Contest. 1st prize €300. Footage from Göteborg Street and all Malmö spots between August 5-13 accepted. Edit deadline September 1st.
#%!! Challenges!
We're not here to tell you what to do. Make up your own challenges and submit them with your video edit. That's right – make up your own challenge, get it done and submit the footage. Awards given as you suggest them.
11 August: Friday 15-18 Prize-Purse: €1.000
Session at Anna Lindh's Plats. Ledges, flatland, sculptures.
5-10 minutes group sessions. Awards are made up based on what stands out.
After prize-giving we go to the Malmö Festival traditional Crayfish Party. Hosted by Streetlab.
12th August: Saturday 13-18 Prize-Purse: €4.000
Team competition at Nobeltorget '4 Hits'. Small stair, kicker-manual, bank-ledge, ledges etc.
Every team has the task of doing  group lines with four tricks. Every team gets four tries. Every skater does one trick per line. Then 5-minute jams. Scores on overall impression per team.
Best trick at Nobeltorget curved ledge section. Prize Purse: €500
13 August: Sunday –  All day. Prize-Purse: €1.000
Svampen Session -low stage with gap, benches, sculptures.
At the art centre, we have installed a sculpture-park adjusted for skateboarding right next to everyone's favorite meet-up spot 'The Mushroom'.
Instagram competition: 1-2 hour time-slots to film Instagram edits. #skatemalmo. Best edits win €.
Tricks for cash.
Total Prize Purse €500
Swoosh x6 
Korahn Gayle
Shajen Willems
Amandus Mortensen
Herman Möller
Magnus Krieberg
Kanya Spani
SHY
Jonas Sohn
Oskar Wennberg
Magnus Bonesmo
Sean Christiansen
Mario Eriksson
Death, Angel and Tubs
Johanna Juzelius
Sarah Muerle
Una Farrar
+1
Adams' Family
Lucy Adams
Josie Millard
Helena Long
Amy Ram
Revenge of the Nurds
Steph Nurding
Emma Fastesson
Beatrice Dumond
+1
Nina's Scandibrew
Nina Troäng
Tonje Pedersen
EugeniaGinepro
Nicoline Egebjerg
Sour
Koffe Hallgren
Daniel Spängs
Nisse Ingemarsson
+1
Adidas          
Martin Sandberg
Plankton
Jamil Danielson
Filip Almquist
These Danes smash it:
Alexander Risvad
Oscar Ramboa
Hubert Brzuchalski
Tobias 'Herb' Simeon
Kaleidoscope: 'Fuck Way out West'
Olof Hörnesten
Johan "Foppa" Forsberg,
Daniel Grönwall,
Michael Jönsson
Billy +Elissa = Sant
Simon Hallberg,
Simon Karlsson,
Axel Lindquist,
Jonathan Carelle

Flying in: Don't make the mistake of booking flights to Malmö, connecting in Copenhagen. Malmö is just across the bridge from CPH Airport and the train pulls into the station. Getting the train is your best bet.
Driving in: Check the map. Bob's your uncle.
Buses: Central station, Nobeltorget and Triangeln are all close to the Skate Malmö: Street spots.
Cycling: Once in Malmö, try the new 'Malmö by bike' rental bike system. Get an account here: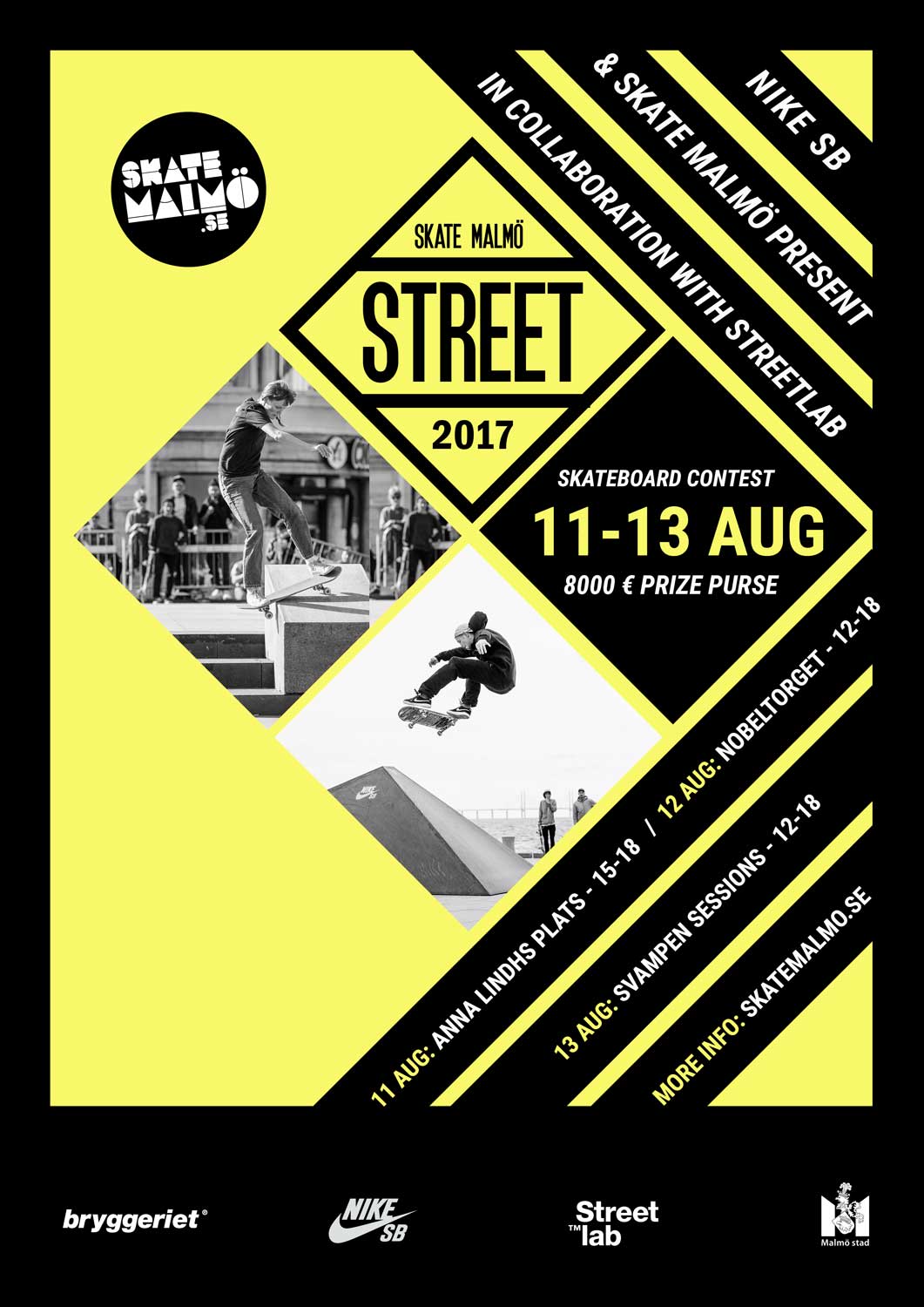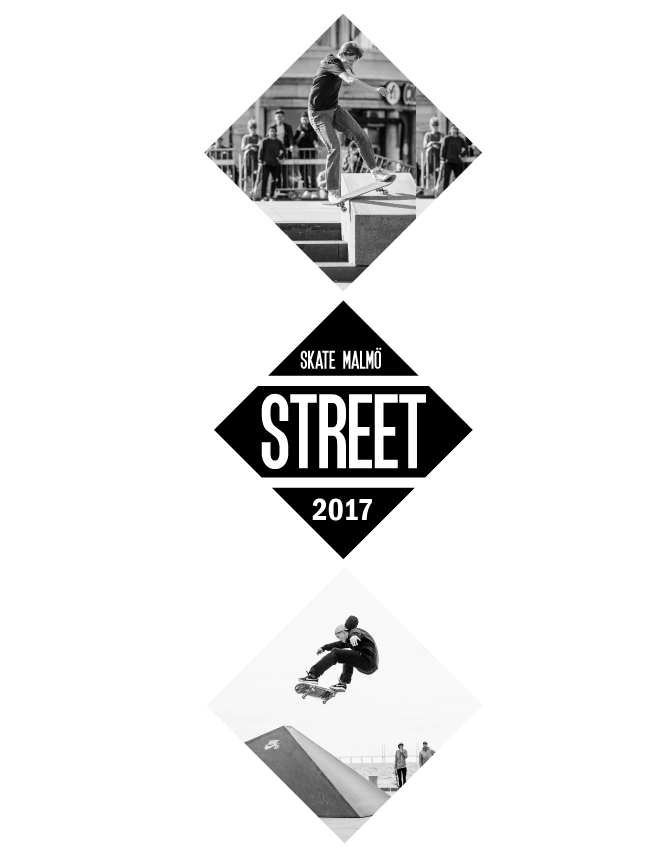 Skate Malmö: Street recap videos 2016
Skate Malmö: Street 2016 / Three Days, Three Spots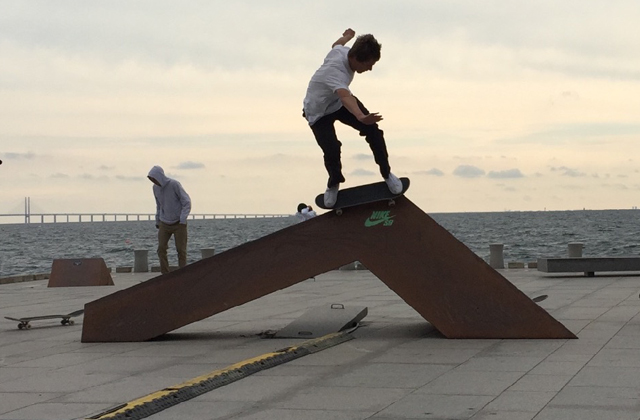 Friday. The 'secret' spot was revealed as Scaniaplattan, the sunken stone platform by the sea. Skateable sculptures by Rich Holland, new granite blocks, music and an open session got things going in spite of the the Swedish team kicking a ball around somewhere. And some looming cloudcover.
Gustav Tœnessen's bank flippery, Ville Vester's mega-grind to fakie on the centre-piece and Alexis Sablone's flip over-down were definite standouts. Definitely a stage for more skate-related activities in the future.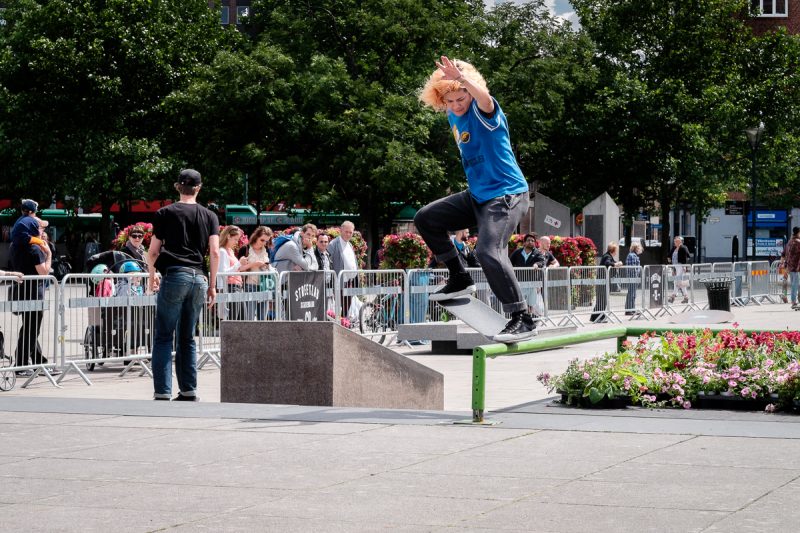 Saturday brought the third annual Back to Värnhem comp. A combination of lines and jams, the comp squeezes a lot out of the riders. in the end, the finalists again pushed it one stage further than thought possible. Alexis' flip-50 down the hubba and switch flip down the stairs, Herman's constant barrage of tricks and Filip Almqvist's switch destruction had the winners set. Sunshine, local flavour, hyped crowd and a nice new setup again brought the event to a close with smiles all around and a post-event session still brewing. Nisse Ingemarsson closed the day with flip bs nosebluntslide on the gap-hubba. Over and out.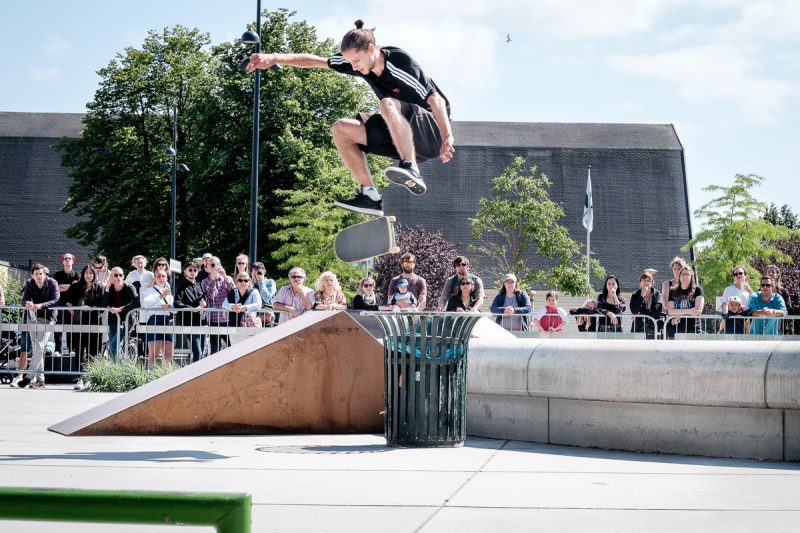 Sunday eased into the Svampen Session. A day of skating at Malmö's favourite plaza. With the edition of sculptures, new ledges and kickers, the square had new opportunities for sessions. A line comp, kicker-over-grate/bin session and up-gap-down session with cash thrown in to fuel the fire made for a mellow, but hyped Sunday. Another sunny sunday chock-full of skating, lounging, good tunes and food drew the weekend to a close.
Thanks to all who came down and hope to see you again next year. Video recaps @skatemalmo.se instagram and @freemagazine soon.
Jr.
1 Herman Möller
2 Axel Kellmén
3 Edvin Holst
Women
1 Alexis Sablone
2 Sarah Muerle
3 Emma Fastesson Lindgren
Sr.
1 Gustav Tønessen
2 Tormod Tønessen
3 Heitor Da Silva
Jr.
Herman Möller
Axel Kjellmén
Oscar Göthlund
Sr.
Filip Almqvist
Tormod Tønessen
Herman Stene
Womens.
Alexis Sablone
Vanessa Torres
Lucy Adams
'4-Hits':
Jr: 1st Herman Möller, 2nd Axel Kjellmén, 3rd Oscar Göthlund
Women: 1st Sarah Muerle, 2nd Annie Guglia, 3rd Emma Fastesson Lindgren
Sr: 1st, Fernando Bramsmark, 2nd Gustav Tønessen, 3rd Magnus Bordewick
'Grate Session'
Jr: 1st Axel Kjellmén – BS180 the bin, 2nd Herman Möller – Ollie the bin.
Women: 1st, Sarah Muerle – Kickflip grate, 2nd Annie Guglia – Cab grate, 3rd Emma Fastesson Lindgren – Showing.
Sr: 1st Daniel Spängs – ss fs flip bin, 2nd Nisse Ingemarsson – Varial Heel, 3rd Tormod Tønessen – Varial flip.
Up-Gap-Down. 
Jr: 1st Herman Möller, 2nd Axel Kjellmén
Women: 1st Emma Fastesson Lindgren, 2nd Johanna Juzelius
Sr: 1st Oskar Rozenberg-Halberg, 2nd Ville Vester, 3rd Herman Stene