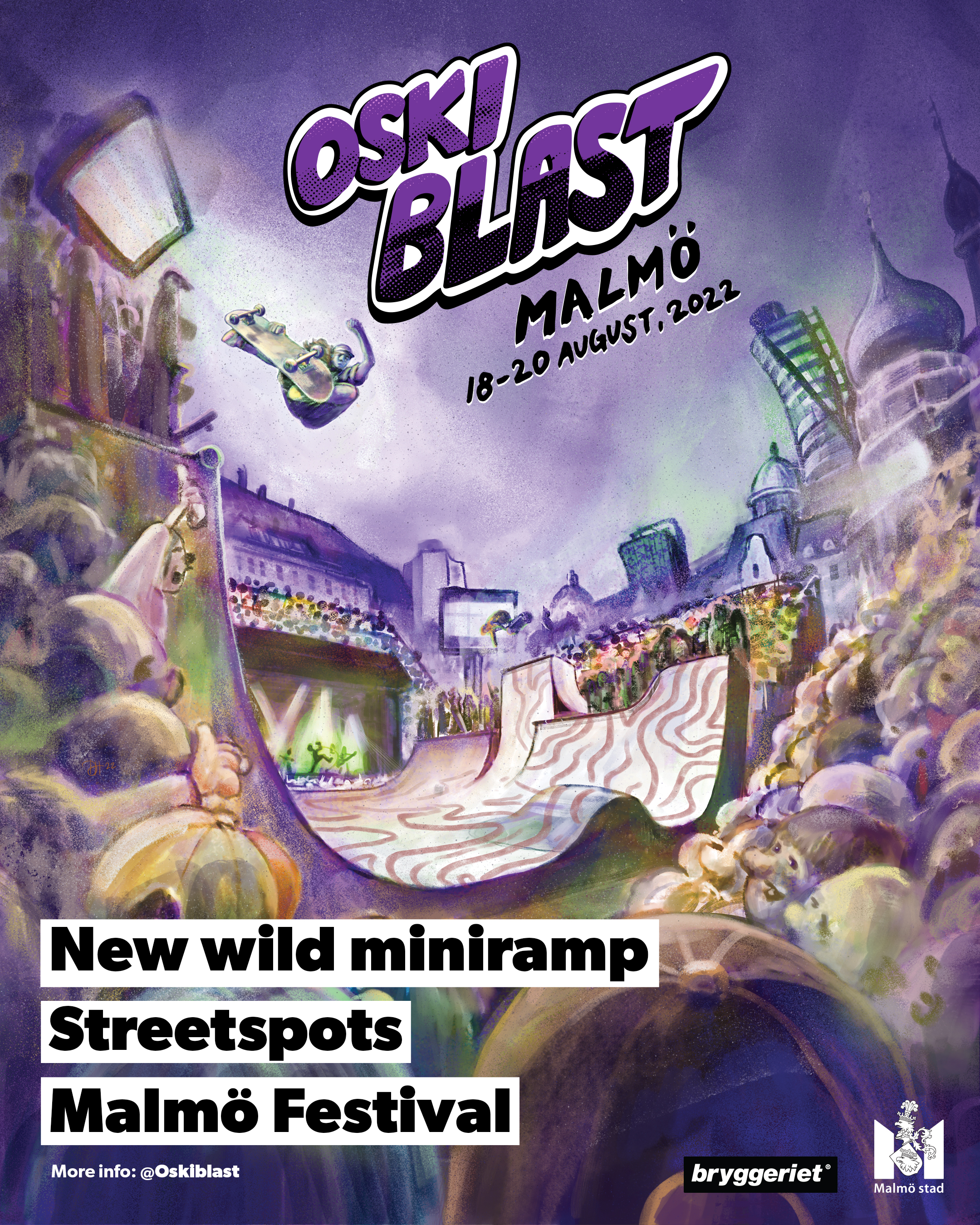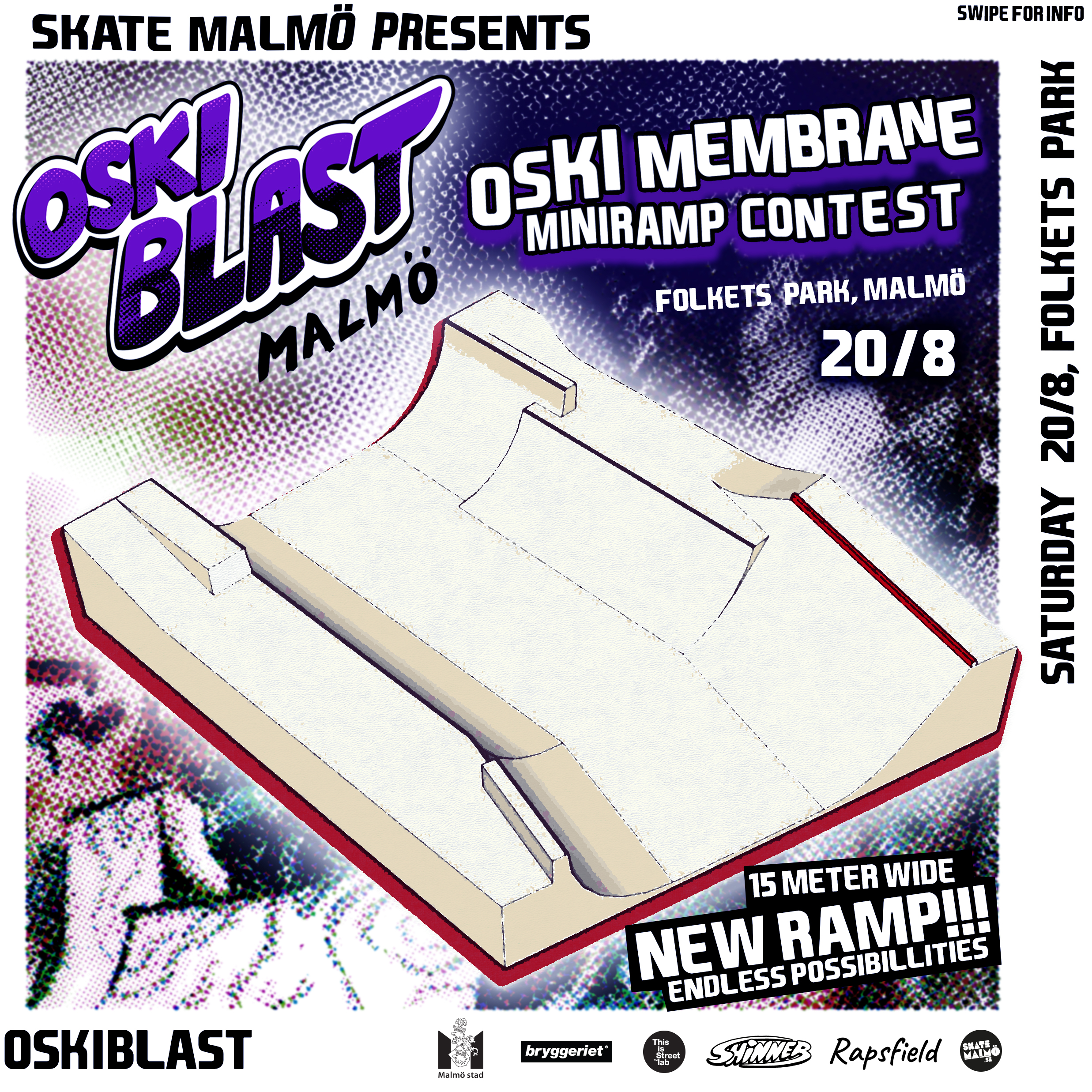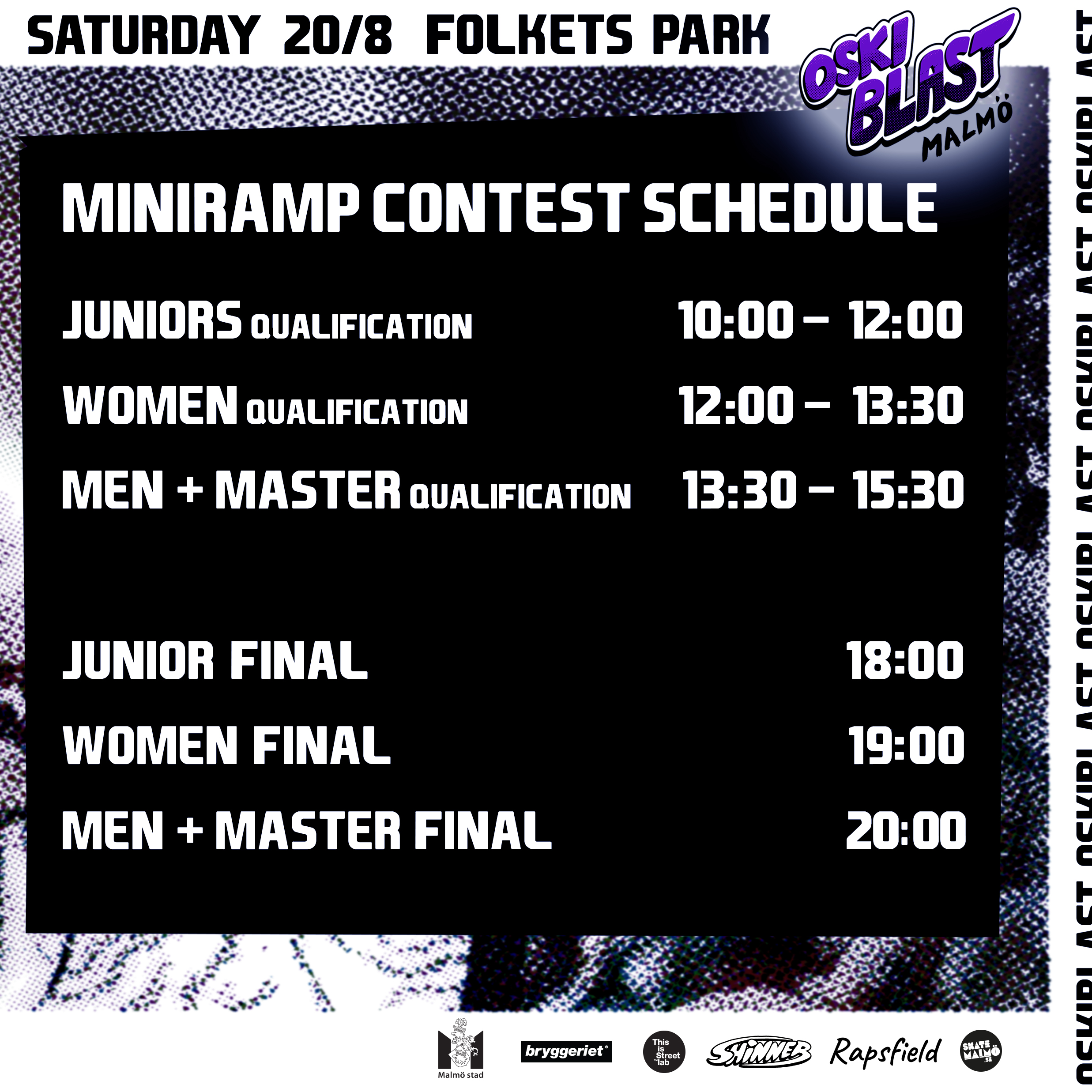 OSKI BLAST
Hometown hero Oski is partnering up with Bryggeriet and the City of Malmö to bring skateboarding to Malmö and Malmö to skateboarding. We're taking over Folkets Park with a new mammoth miniramp and the scene is organizing pop-up sessions around the city. All the while, the Malmö Festival with bands, parties, food and much more is in full swing. 
Thursday:
It all kicks off on Thursday with the ramp opening for practice. In the evening, we're closing the street outside Rapsfield for sessions, DJ's and more. Skateboarders skateboarding. Skateboarders fingerboarding. People doing people stuff. A blast!
Friday:
SCHEDULE CHANGE – NEW BRYGGERIET STREETCOURSE OPENS FRIDAY
Due to inclement weather, Friday's qualifications in Folkets Park awill be moved to Saturday.  
While waiting out the rain, Bryggeriet's new streetcourse will open on Friday from 16:00 – 20:00.
Session open to all. Get in the mix.
After Bryggeriet we will all head over to Lokstallarna for a skate sesh, film and magazine premiere, food, drinks and good vibes. 
Saturday :
Saturday starts in the Park with Juniors' , Womens', Mens' and masters' qualifiers from 10. At 15.30, we take a break and move to Konsthallstorget for the Intergalactic Inferno. Students at Bryggeriet Highschool have partnered with Malmö Art Centre to design skateable sculptures inspired by the William Scott exhibition. Marvin Ekemo Fonnes and Vilma Stål have created two skate-inspired spaceships and are inviting you to get your cosmic creativity going for an intergalactic session. And do make sure to check out the exhibition inside when you're in town.
 At six, we're back in Folket Park for the Oski Membrane finals. Showtime! Free entry, first come-first served, one-in-one-out. Get there in time if you want to see the show.
Sunday:
Bryggeriet Skatepark's new street course will be ready just in time for the Blast! Session all day. Come check out the heart of Malmö's skate scene and the home of Bryggeriet's Gymnasium.
THIS IS AN EVENT INSPIRED BY SKATEBOARDING
Sexism, homophobia, transphobia or racism does not belong here.
18 August – Thursday
15:00 – Ramp opens. Practice opens.
19:00 – 21 'Rapsfield Session' – Pop-Up session by Rapsfield shop.
19 August – Friday
16.00 – 20.00 Bryggeriet Skatepark. Opening of the new street course. 
20.30 – 24.00 Streetlab Lokstallarna session + Filmpremiär
20 August – Saturday
Folkets Park:
10:00 – 12:00 Juniors' qualifiers
12:00 – 13.30 Womens' qualifiers
13:30 – 15:30 Men + Master qualifiers
15:30 – 18:00 Break
18:00-21:00 Finals – All
Konsthallstorget:
15:00-17:30 – 'Intergalactic Inferno' –  Bryggeriets Gymnasium x William Scott – Skateable spaceships session.
21 August – Sunday:
Bryggeriet Skatepark Session. Doors open 11:00.
BBQ, Music and good vibes.