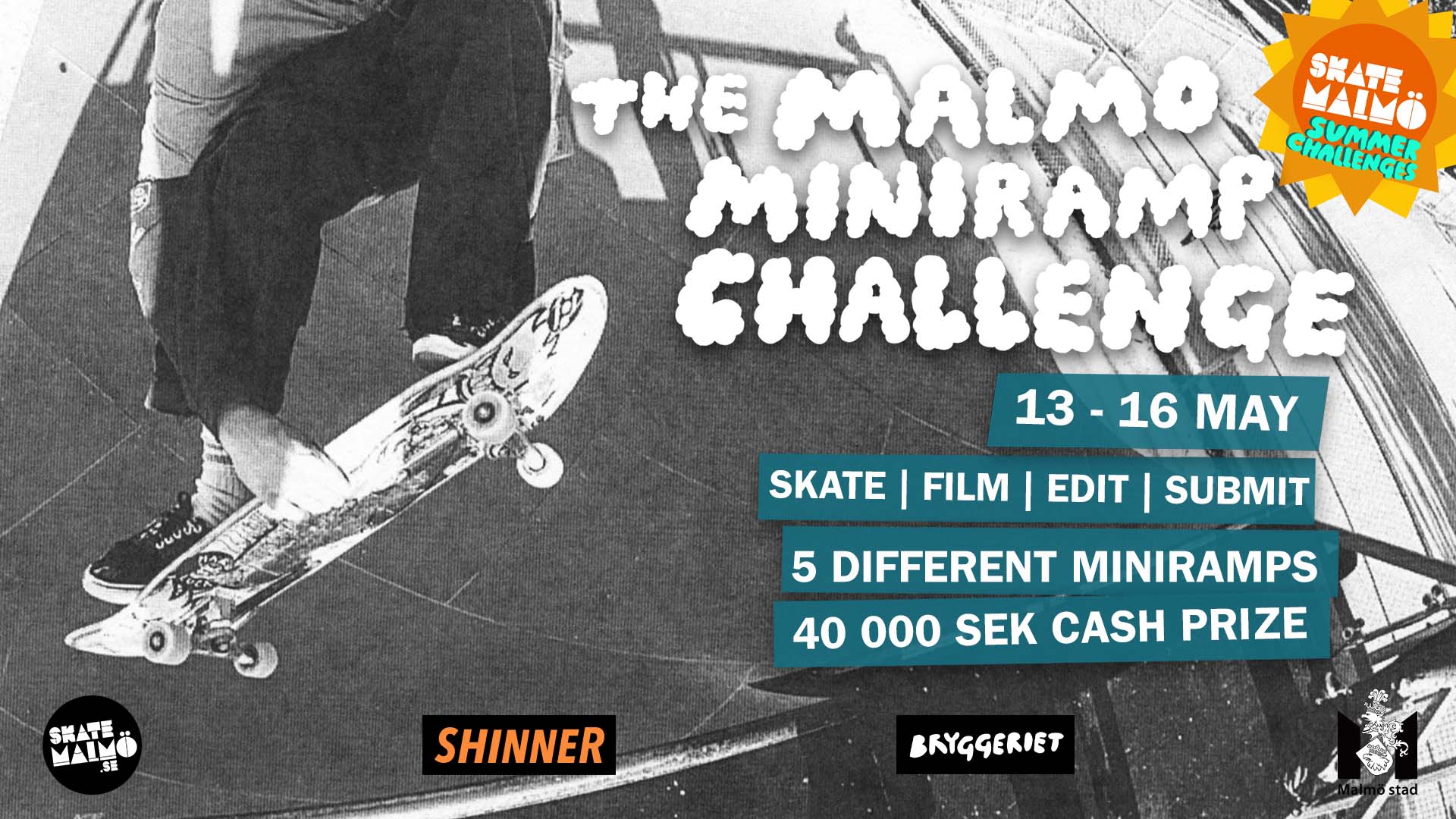 Malmö Miniramp Challenge
Miniramp takeover complete! Teams: Check. Weather: Good enough. Challenges: On it!
The best way of figuring out what went down this weekend is to check the edits and clips on SHINNER and Instagram. Different teams got involved with different styles and approaches. As skateboarding was intended: Do it on your own terms. 
Team Smuts came in full stoke with a heavy lineup coupled with a deep hype. Good filming, a bag of tricks deeper than loch ness and dedication to get things done at first looked like they might dominate the whole event. 
Not to be deterred, however, team Big Head kept their fire burning with seemingly endless tricks and footage. No stranger to transition, these guys. Rainbow destruction and tre-fs crook anyone?
Clearly undeterred by the bro-heavy teams, the Boneless Crew made the weekend their own and looked as if they were having a blast. Casual invert skills, commitment and some creative camerawork meant the girls took home several challenges. 
The decimated The The Wave Wave braved through the weekend prioritising cinematic re-enactment. Putting a lot of work into scenic settings as well as non-verbal audiocommunication. And, of course, skating. Animal Chin was probably, like the rest of the team, away on other business, but The The Wave Wave prevailed none the less.  And get the shaka out for that carve session!
Team Larp Larpington took the costume drama challenge and brought it miles outside the box. What is skateboarding? Probably this. Potentially not. Until we standardize the wheelbase-measurements for costume-drama challenges, this will certainly wash. Cool song, gents. I think. 
Team Streetlab showed and took on several challenges at the new ramp in Enskifteshagen, cutting it close with other teams. Sick ender, Benhög!  Bonus award for vet-tech. 
Team Hanssons were out charging over the weekend, earning a bonus award for uploaded tricks. 
To see the action from the weekend and to keep adding to the history of the spots, check out the SHINNER app and skatemalmo.se on Instagram. 
Watch this space for more challenges coming soon!
Team Work is Dream Work Winners
Bunkeflo Rainbow Challenge winner
Folkets park Highs and Lows Challenge
Limhamn Caaarve edit winner
Limhamn Spine edit winner
Bulltofta Invert Challenge winner
Bulltofta Out n in Challenge winner
Enskifteshagen Outside the Box Challenge Winner
Enskifteshagen Manual Challenge Winner
Add a trick Award: Team Smuts (190 tricks)
Bonus Awards:
Spine committment: The Boneless Crew
Upload Bonus Award: Team Hanssons
Oldest Tech Ender award: Team Streetlab – Benhög
Photo gallery by Jacob Hansson
The Malmö Miniramp Challenge – Challenges now live!
The Malmö Miniramp Challenge is a challenge-based event spread around Malmö's miniramps over the long weekend May 13-16 (Kristi Himmelfärd). Challenges are now live on SHINNER and www.skatemalmo.se.
The challenges are video-based, meaning you film your crew, edit clips and submit via the app or youtube. The event window closes Sunday May 16th at midnight. 
Enter in crews of 3-5 people, download the SHINNER app (@shinnerapp), film clips and post to win. 40.000:- prize purse and more.
CHALLENGES:
Best overall edit. 
Film a clip from the weekend.
Must use footage from all five ramps.
Top three edits share 15.000:-
'Submit via youtube'
Best costume drama: 
Get dressed up and film an edit.
Top two edits share 5.000:-
'Submit via youtube'
Team Work is Dream Work: 
Film a clip with synchronized skating and/or team lines.
Top two edits share 5.000:-
'Submit via youtube'
More challenges are found in SHINNER – Check the spots to find out more!
How does it work?
Step 1: How to sign up your team:
Email info@skatemalmo.se:
Team name
Names of team members
Name and phone number of a contact person for the team.
You need a youtube account to post clips – Email us the name of your youtube-channel.
If you don't have a team – let us know – we'll find one for you.
Step 2: SHINNER
Download SHINNER app. Sign up.
Under 'Local' find the Malmö Miniramp Challenge.
Skate, have fun, be safe.
Upload your edits and clips.
Follow spots and feed in SHINNER for updates.
Pandemic info:

The Malmö Miniramp Challenge only works if we spread out.
Skate Malmö recommends strict adherence to the recommendations of social distancing.
This means no more than 3-4 people per platform or 6-8 people per ramp at one time.
If you're not skating – don't crowd the platforms.
If others are waiting – take a break.
Skate at Your Own Risk
Participation is strictly voluntary.
Skate at a level you are comfortable with and select challenges accordingly.
Getting around: 
https://www.malmobybike.se/en
In case of injury
In case of serious injury and in particular involving head trauma, call 112 immediately. Then contact Skate Malmö on 0733 237734 so that we can assist you.
If you need assistance for less urgent injuries such as sprains or scrapes, contact Skate Malmö and consult https://www.1177.se/Skane/olyckor–skador/akuta-rad—forsta-hjalpen/
For further info go to www.skatemalmo.se or contact info@skatemalmo.se with any questions.
Step-by-step: 
Get your friends together and form a crew of 3-5 people. If you don't have a team, we can help you find one. Email your crew name, names of members and a contact phone number to info@skatemalmo.se. No entry fee. Challenges for all levels of skating.
Download the SHINNER app. (@shinnerapp)
On May 13th, check out the Malmö map and look for the […] logo. Click on the spots to find challenges.
Plan the weekend: You decide what order you want to take on the challenges. You don't need to do them all. Costumes, basketball and fika optional.
Go shred with your friends: Film for the edits, submit and follow the other crews' progress over the weekend. Be mindful of current pandemic restrictions and keep your distance.
Win: 40.000:- prize purse total. Top overall edit 10.000:- and more cash prizes.
Malmö Miniramp Challenge
If we can't meet up – let's spread out!
In a normal year the onset of spring would mean it was time for Folkets Miniramp Jam. Two things have happened. The obvious first is the pandemic and this means we can't meet up for traditional events. The second is that Malmö has had several new miniramps added over the last year. Well if we can't skate just one, let's skate them all! – Welcome to the Malmö Miniramp Challenge!