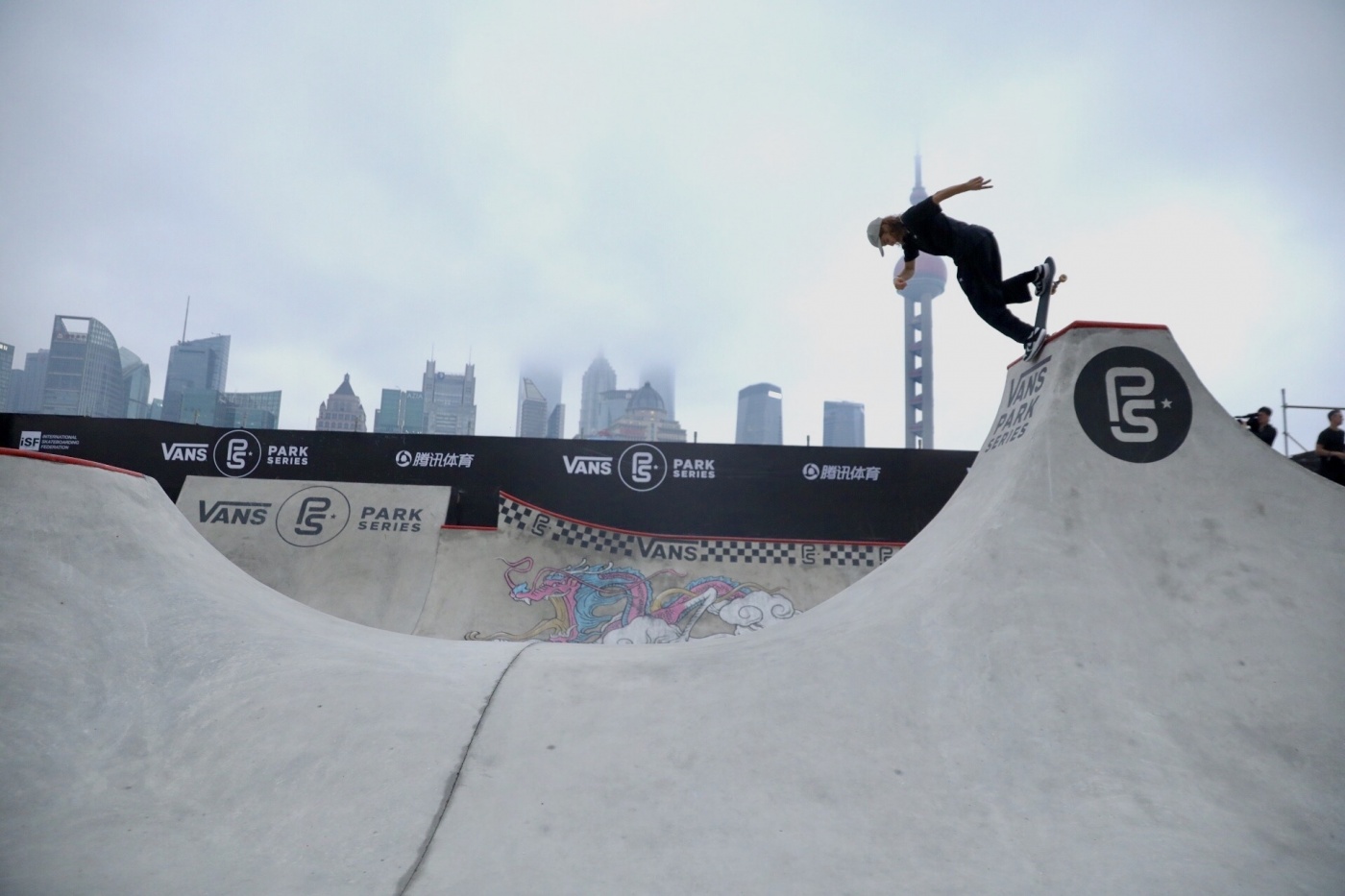 Oskar Rozenberg-Halberg 'world champion' of the Vans Park Series! And Karl Berglind second on the Challengers ranking 2017.
This afternoon at the temporary Vans Park Series Skatepark on the Bund riverside in Shanghai, the question on  everyone's mind wasn't how the skyscrapers across the river at Pudong could have come up so fast. The skatepark's eight-day build was testament to steel and concrete taking shape at alarming rates. No. The question was 'will it rain'.
Beyond the disappointment of missing out on a final, rain would have meant the results from Friday's  semifinals would be the end result. This would have had last year's winner Alex Sorgente claiming his second Park Series title. Not so good for the Malmö Boys.
Kalle tore across the park in the semis and broke in the 'onto-the-fence' feature with solid tailstalls mid-run in spite of a hairy situation with wobbly plywood. Kalle has been progressing consistently since day one and his presence in the final was a solid testament to that fact. Oski had less flow in the semis, but manaed to secure a place in the finals. The rest of the guys did what they do best and we all got to see Pedro stay on mach-10 runs.
But now – rain. By three o'clock, there was still no telling wheather or not to proceed. 50 shades of grey and the most undecisive weather imaginable. But the crowd hung in there, waiting all day, poncho-dressed and keeping cheery.
A window just after three was enough to hold the women's finals. Kisa Nakamura had power and flick, powering through the corners and mixing plips in to boot. Brighton Zeuner, last year's winner at Malmö and only 13 years old polished the dust off her runs as they progressed and finished off with full power to second place. The weekend's standout skater on the women's side was sure to tell Nora Vasconsellos. Airs, grinds, pivot-fakies all tied together nicely meant a well-deserved first place. Yes Nora!
And now: Ran!
Jack Fardell got a run in and it was looking like all-systems go for the men's final as well when the skies yet again semi-opened and a half-hearted drizzle came through. Queue: Pause music.
Is it dry? They're starting to skate. Ok. Ten minutes! Right it's a go!
Jack got a second chance at his first run and upped the ante by squeezing out an extra drop of stylish grind and power out of it. Ivan couldn't quite find his line until the last run. Kom igen Oski… Helvette! KAlle – looking good… Damn! Slipping out on the tailstall. Right. Other dudes getting safety runs out of the way… Oh except Pedro! Chaarge! Sick.
Second Runs: Kalle? Damn! Two more. Oski? Come one… Yes! Yes! What!! Whaaat!! Whaaaat!!! Crowd goes nuts, speaker loses their voice, stadium chants 'Oski, Oski…' 94. What! 1st place! Where can it go from here?
Sorgente landing the same perfect run that got him first in the finals. Judges not saying that's enough. Riders missing runs. Final runs. Oski pop-shoveit 50 into the bank for the crowd. Boom! Pedro shrunk the park by going 30% faster and higher than everyone else . No time for too much lippery at mach-10. But is it more than Oski's barrage of awkward meets style? No? Sorgente? Where do you go when your perfect run wasn't enough. Not bad. 3rd.
We have a winner!!
Hang on – we have two winners! Kalle was the runner-up of the overall challengers ranking 2017. From getting to go out for the Australia stop 2016 to becoming a full-fledged member of the Park Series finals in one year. There is only one city in the world with two riders up in this. Guess which.
'VM Guld, Vm guld, VM guuuuld'
(repeat)