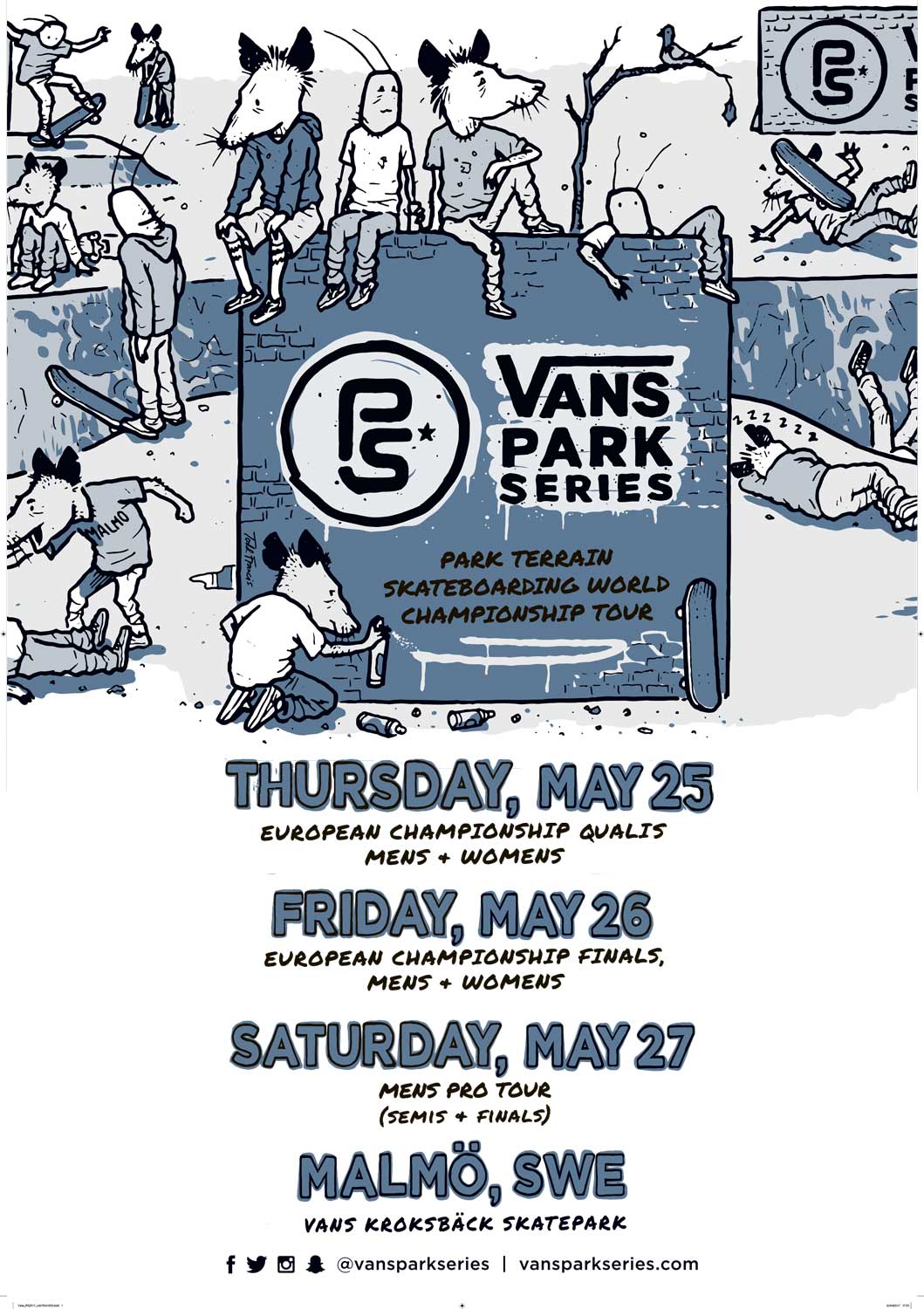 VANS PARK SERIES – PARK TERRAIN SKATEBOARDING WORLD CHAMPIONSHIP TOUR
MAY 25 – 27
KROKSBÄCK SKATEPARK
THURSDAY, MAY 25
EUROPEAN CHAMPIONSHIP QUALIFICATIONS
MEN & WOMEN
FRIDAY, MAY 26
EUROPEAN CHAMPIONSHIP FINALS
MEN & WOMEN
SATURDAY, MAY 27
MENS PRO TOUR
SEMIS & FINALS
SCHEDULE VANS PRO SKATE PARK SERIES WEEK
Monday 22/5 Practice from 10.00am
Tuesday 23/5 Practice from 10.00am
Wednesday 24/5 Practice from 10.00am
Thursday 25/5 European Championship Qualifications
11.00am – 7.00pm
Friday 26/5 European Championship finals
11.00am – 7.00pm
Saturday 27/5 Vans World Championship Pro Tour semis & finals
11.00am -7.00pm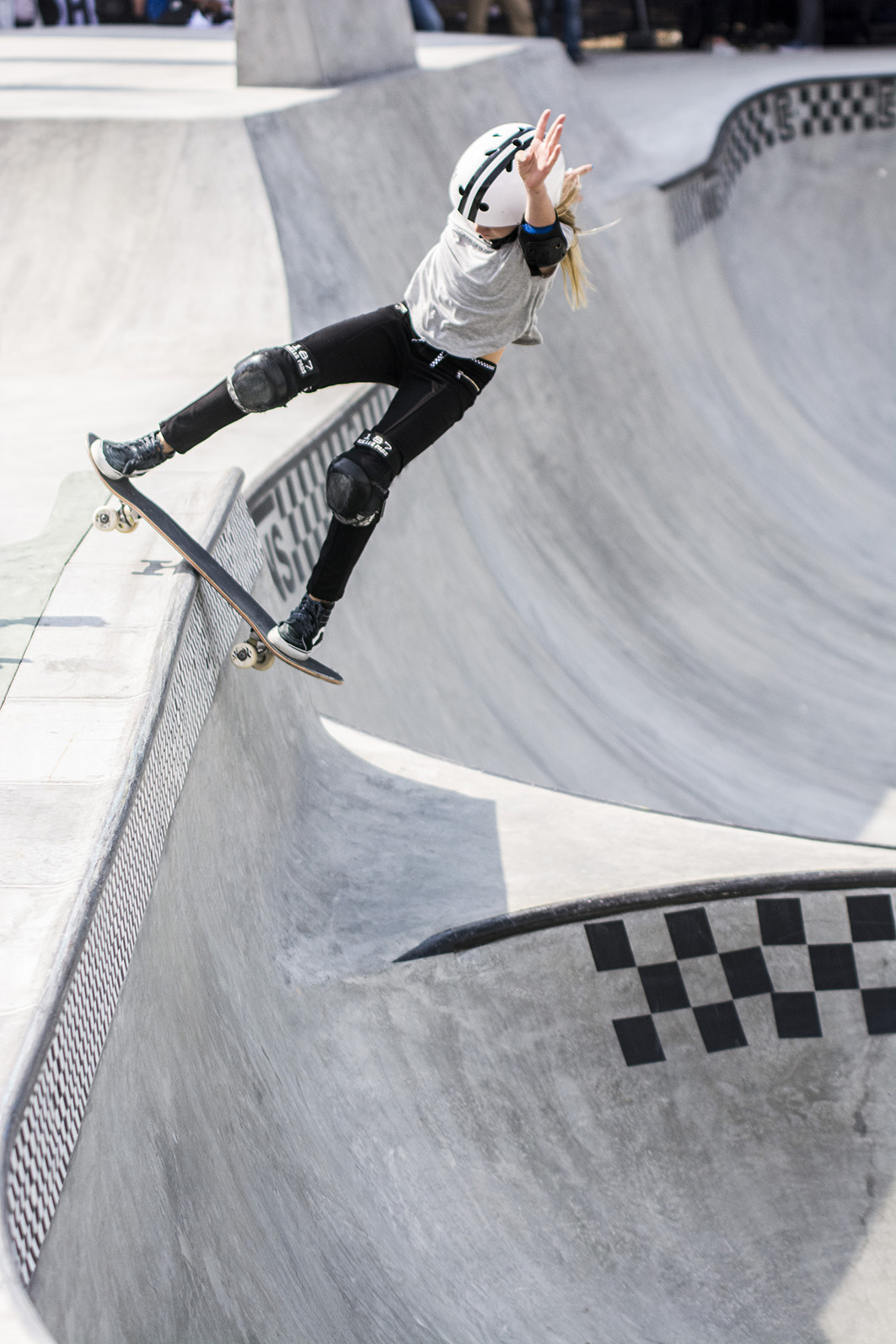 THE ROAD TO MALMÖ
For Vans Park Series, Skate Malmö are collaborating with Phil Evans in producing 'The Road to Malmö', a series of films highlighting different aspects of Malmö as a city for skateboarding. From the skaters, to the spots, to the collaboration between the City and Bryggeriet.  Enjoy!
Vans Park Series Malmö 2016
What a week!
The main show rolled into town and we were ready for it. Vans Pro Skate Park Series World Championship Final. Get your head around that for a minute, eh? Big guns in town. Full squad.
After months of preparation, building a park and feeding the hype it was go-time. While CPH Open was kicking off across the sound, grandstands were being put into place in Kroksbäck and the site for the World Championship Final was taking shape. Even before CPH Open was over, the riders started to arrive. Hatchell, Kowalski, Sorgente, Schaar, Lynn, Armanto, Zeuner, Barratt. Brewing.
Monday kicked off the Skate Malmö: Side Show with the park opening. Mayor, Klezmer, million neighborhood kids, media, sunshine. Pedro Barros, Julz Lynn. Charge!
Wednesday: Deep-End Session. The annual congregation at Stapelbäddsparkens gnar-pocket once again got cooking. Do something – get cash. Join in, get hyped. Have it!
Thursday: We're everywhere! Visitors travelling to Central Station for the Malmö Festival were confronted with a throwback 80's setup and the Central Station Jam. Jams, tricks for cash, skating cars. There's a reason the classics are classics.
Friday: Side Show at the Main Show!
When in Malmö, you should get to skate. Skate Malmö: Shred! is the open contest at the new Kroksbäck Skatepark. €3000 on the line and free to enter. Shredding took place, the Side Show crew took the Main Stage and all was well. Watch this space for results and recap.
Saturday: Vans Pro Skate Park Series World Championship Final
The crowd! Queues for miles, grandstands at capacity and the hills by the park packed. Malmö loves skating and came out in full force to show it. Thanks everyone for showing such good patience with queues and limited grandstand access. Sunshine, food, drink and good times.
All the kids in Kroksbäck know Julez! Crowd favourite did the drop-in noone else would and won the hearts of the crowd. Brighton Zeuner is 12 and the world champion after putting together an mind-blowing run, ending with a bs 360 over the launch-island that she had been trying all week. When the lines align, it's a joy to watch and Brighton's reaction after that last trick will be putting smiles on faces for some time to come. No doubt well deserved. Fuck yes, Brighton!!
It's easy to expect that it takes a skate-nerd to appreciate the finer subtleties of skateboarding. Style, technicality, precision, creativity. These are all things skaters like to think the 'general audience' won't appreciate. With this in mind you havet o give it to the Malmö audience: They saw what the skaters saw. Seeing the same line every run doesn't necessarily build the hype, while standout tricks stick to the memory and make a stronger impression. The audience wasn't there to judge, they were there to enjoy the skating. And that they did. Nice one, Malmö.
Hometown-hopeful Oski laid down improvised runs and the crowd loved the fact that they didn't know what to expect. In the end that wasn't enough to reach the finals, but everyone got to see Oski do what he does best. As the finals approached, the sky was graying over. Two runs in it started spitting enough for the tension to intensify, and the pace to speed up, but it stayed dry. The atmosphere intensified and the last runs had full focus.
Grant Taylor, Corey Juneau, Ivan Federico, Jack Fardell, Pedro Barros, Ben Hatchell, Kevin Kowalski and Alex Sorgente battled it out with run after run outdoing the previous. No one could knock Pedro on power or Jack Fardell on five-0 fakies, Ben Hatchell's gap-tombstone-ollie out transfer may have been the banger of the day and Ivan Federico nailed all the hard tricks in his line, but in the end Alex Sorgente's combination of power and fine-tuned calm control earned him first.
Here's some photos from the week shot by our photographers EKEN and RAMIN.
BBC:
Skateboarding leaps into the Tokyo 2020 Olympics
Huck: 
Is Malmö the most skateboard-friendly city in the world?
TV4: 
VM i skateboard – nu inleds finalen i Malmö
SVT: 
Dubbelt amerikanskt i skateboard-VM
SVT Play: 
VM i skateboard avgörs på Kroksbäck skatepark
Sydsvenskan:
VM-final gav Malmö en ny park – nu är den invigd
Oski: Mer nervöst nu när vänner och familj kollar
Bildextra: Skateboard-VM i Malmö
Vice: 
Skateboarding in Malmö
Thrasher magazine:
Vans Park Series: Malmö Women's Highlights
Vans Park Series: Malmö Men's Highlights
Vans Park Series:
Free skateboard magazine: 
Vans Park Series Finals Photo Recap
i-D: 
Lizzie armanto on the lack of diversity in skating
The competition area opens at 13.00
The competition starts at 14.30.
It is free to come and watch the comp. A lot of visitors are expected so we strongly advise getting there in good time. Once we have reached maximus capacity the area will be closed off.
How to get there:
Kroksbäck skatepark is located here
If you are not getting there by foot we recommend public transport.
If you are arriving by train it's a short walk from Hyllie station.
The closest buss stop is "Hylliebadet" where bus 8 stops.
If you are arriving by car there's a lot of parking around Hyllie station or Emporia shopping mall.
Security
All visitors must go through a brief security check. Things that may be regarded as harmful are not allowed. This judgement will be made by our hosts. You are not allowed to bring in any alcohol. All other drink or food is ok.
Bring a water bottle
There will be water available on site so bringing a water bottle would be a good idea.
Toilets
There are several toilets on site. Also handicap specific ones.
Food and Merchandise 
There will be food and merchandise for sale on site but not all accepts card payments so bring cash.
Competition schedule
The competitions starts at 14.30
14.30 Women's World Championship
15.30 – 16.00 Men's warm up
16.00 Men's Semi Final
17.45 Men's Final
18.15 Prize giving ceremony
More info about the comp at www.vansparkseries.com/